the Captain...





Captain Trent Brown


Phone: 561.324.6270
TrentBFish@gmail.com
You're in good hands while Captain Trent Brown is at the helm.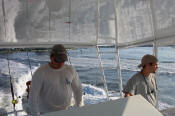 Captain Trent Brown is a son of a son of a sailor. His grandfather was a Jersey charter boat captain and then a Head boat captain in Pompano Beach. His father is an avid sport fish captain who raised him on boats from an early age. This taught him the love of fishing and for the water. Being raised in Newport Rhode Island gave him a balanced exposure to both fishing and sailing.
After attending college Captain Trent had a brief stint in the restaurant and car industry. He then started a charter fishing business that focused on light tackle and saltwater fly fishing. After several years of fishing in New England during the summer and South Florida during the winter he made the change to yacht brokering. After several more years behind a desk as a yacht broker he felt it was time to make the move back to being on the water. Soon after that he took on the job of Captain on Mr. and Mrs. Stewart's yacht, the Kaizen.


Always willing to lend a helping hand.